Thanksgiving with the Co-op
The holiday season is upon us, and the Marquette Food Co-op is here to help create some special memories around the table! See below for information that can help you plan your perfect Thanksgiving meal.
Thanksgiving Store Hours
November 20-21: Extended hours, 8 a.m. to 10 p.m.
November 22: Thanksgiving Day, store closed
November 23: Closing early, 8 a.m. to 7 p.m.
Thanksgiving Tasting Event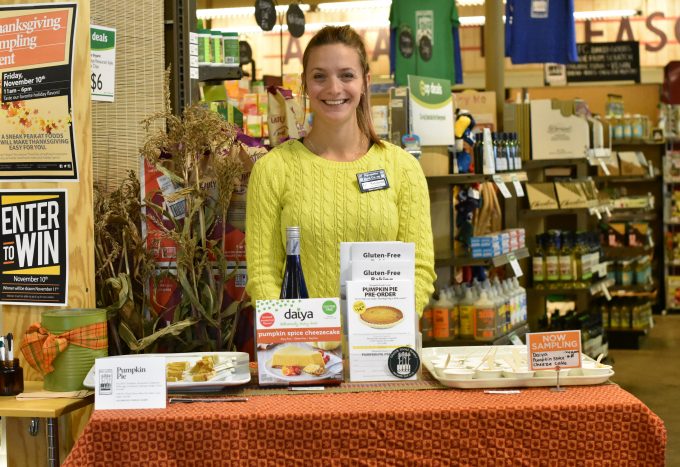 Creating the menu for your Thanksgiving feast? Let us help. Visit the Co-op on November 16 between 11 am to 5 pm and sample several of our favorite holiday flavors that everyone at the table, regardless of their dietary preferences or needs, will rave about.
Turkeys
This year, the Co-op will have fresh Ferndale Market Turkeys. Ferndale turkeys are raised without the use of antibiotics or artificial growth promotants, and are free-range during the warmer months at the family farm in Canyon Falls, Minnesota. They're naturally processed, without additives. The Co-op also hats Ferndale Market turkeys currently in stock in the frozen section, and a shipment of frozen Larry Schultz Organic Turkeys is expected to arrive mid-month. Larry Schultz turkeys are fed with certified organic feed, and meet both the Global Organic Alliance and USDA guidelines and certifications for organic farming. Each of these options will be available in weights ranging from 10-24 pounds.
Read more from our Meat & Seafood Manager, Clayton, who recommends brining your bird in the latest edition of our newsletter, The Fresh Feed.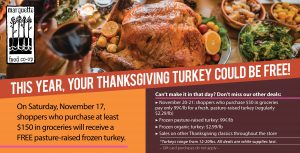 Tips/FAQ
How much turkey should I purchase?
Generally, 1-1.5 pounds of uncooked bird per person is a good amount.
How long should I cook my bird?
What you really want to look for is an instant read thermometer temping the thigh at 180 degrees and breast or stuffing at 160 degrees. The following chart is a great reference guide for an oven set at 350 degrees.
| | | |
| --- | --- | --- |
| Weight of Turkey | Roasting Time (Unstuffed) | Roasting Time (Stuffed) |
| 10-18 pounds | 3-3.5 hours | 3.75-4.5 hours |
| 18-22 pounds | 3.5-4 hours | 4.5-5 hours |
| 22-24 pounds | 4-4.5 hours | 5-5.5 hours |
| 24-29 pounds | 4.5-5 hours | 5.5-6.25 hours |
Prepared Pies
This year, the Co-op will be stocking scrumptious Willamette Valley Pie Company pies for the Holidays. Made from scratch with fresh whole fruit, all-natural ingredients, and no preservatives or additives, Willamette Valley Pie Co. pies are about as close to homemade as you can get. Choose between Pumpkin, Vegan Pumpkin, Pumpkin Chiffon, and Pecan for your holiday gathering.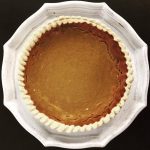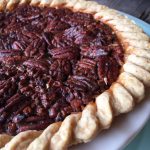 The Perfect Pairing
Our Beer & Wine Buyer, Clare, has carefully chosen several wines that will pair perfectly with (and not overpower!) your delicious Thanksgiving dishes. Click here to see her suggestions.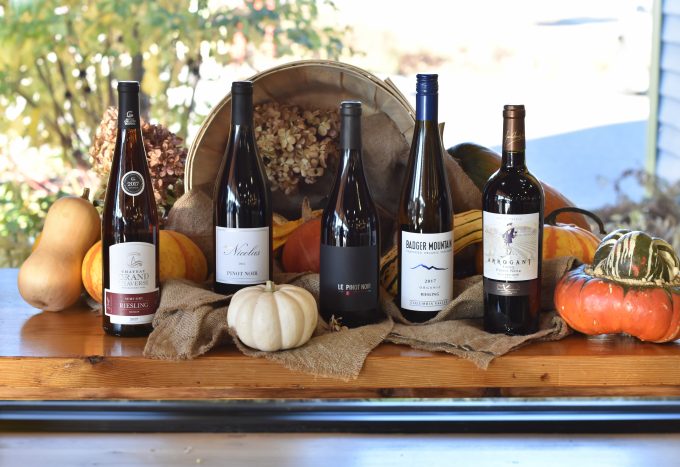 The Ultimate Snack Guide
Don't let your guests get hangry! The Co-op has plenty of simple, ready-to-eat snacks and appetizers to help kick off your holiday feast. Click here to see our suggestions and where to find them in the store.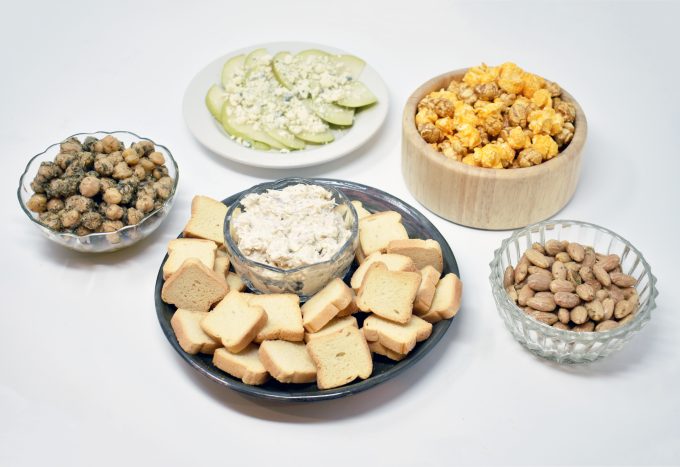 Thanksgiving Simplified
For those looking to simplify their day, we also have plenty of tasty pre-made sides and salads, grab-and-go items and a full hot bar with seasonal offerings available for dine-in or take-out.
On November 20 & 21, we'll have the following Thanksgiving staples available on the Hot Bar — Roasted Turkey, Sweet Potato Mash (V), Stuffing (VG), Cornbread Stuffing (GF), Mashed Potatoes (VG), Gravy (V), Cranberry Sauce (V), Green Bean Casserole (VG), Stuffed Squash (V)*
V = Vegan
VG = Vegetarian
GF = Gluten Free
Recipes