Thanksgiving with the Co-op
The holiday season is upon us, and the Marquette Food Co-op is here to help create some special memories around the table! See below for information that can help you plan your perfect Thanksgiving meal.
Thanksgiving Store Hours
November 21-22: Extended hours, 8 a.m. to 10 p.m.
November 23: Thanksgiving Day, store closed
November 24: Closing early, 8 a.m. to 8 p.m.
Thanksgiving Tasting Event
On November 10, shoppers will have the opportunity to try some of our favorite holiday offerings, including traditional sides, specialty cheeses, vegan and gluten-free options, and whole, organic, made in-house pumpkin pies available for pre-order (details below).

Turkeys
This year, the Co-op will have fresh Ferndale Market Turkeys arriving in the store on November 17. Ferndale turkeys are raised without the use of antibiotics or artificial growth promotants, and are free-range during the warmer months at the family farm in Canyon Falls, Minnesota. They're naturally processed, without additives. The Co-op also has Ferndale Market turkeys currently in stock in the frozen section, and a shipment of frozen Larry Schultz Organic Turkeys is expected to arrive on November 10. Larry Schultz turkeys are fed with certified organic feed, and meet both the Global Organic Alliance and USDA guidelines and certifications for organic farming. Each of these options will be available in weights ranging from 10-24 pounds. Smoked turkey will also be back this year!
We'll also have everything you need to complete the meal, from beer, wine, fresh produce and specialty cheeses to traditional holiday fixings and foods to accommodate vegan or gluten-free diets.
*Scroll down for the perfect turkey brine recipe!

Pumpkin Pie Pre-order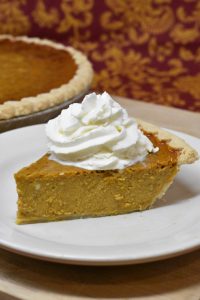 Between November 10-15, shoppers can pre-order whole organic (and made in-house) pumpkin pies for $14.99. Samples will be available at the Thanksgiving Sampling Event on November 10 (details above), and pre-order forms will be located at the Customer Service Desk near the front of the store following the event. Pie pick-up will be held on November 21-22. All you'll need is the whipped cream!
*Whole and half pumpkin pies will also be available in the grab-and-go cooler near the deli in the days leading up to Thanksgiving.
Cheese & Veggie platters
To place an order, contact Prepared Foods Manager Heidi Sands at hsand@marquettefood.coop or 906-225-0671 x708.  Orders must be placed three days prior to pick up. For large orders (more than three platters), a week and a half notice is necessary.
16'' Cheese platter (Regional or International)
Serves 20-25
$69.99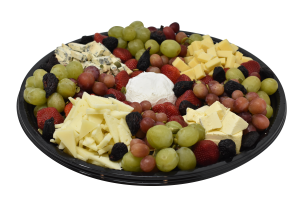 Organic Vegetable Platters – includes broccoli, carrots, cucumber, red pepper, celery, and house-made Ultimate Hummus or Ranch.
12" – serves 10-15, $32.99
16" – serves 15-20, $45.99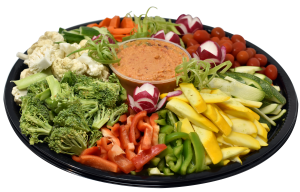 Recipes
Recipes for Specialty Diets
Thanksgiving Simplified
For those looking to simplify their day, we also have plenty of tasty pre-made sides and salads, grab-and-go items and a full hot bar with seasonal offerings available for dine-in or take-out.
Tips/FAQ
How much turkey should I purchase?
Generally, 1-1.5 pounds of uncooked bird per person is a good amount.
How long should I cook my bird?
What you really want to look for is an instant read thermometer temping the thigh at 180 degrees and breast or stuffing at 160 degrees. The following chart is a great reference guide for an oven set at 350 degrees.
| | | |
| --- | --- | --- |
| Weight of Turkey | Roasting Time (Unstuffed) | Roasting Time (Stuffed) |
| 10-18 pounds | 3-3.5 hours | 3.75-4.5 hours |
| 18-22 pounds | 3.5-4 hours | 4.5-5 hours |
| 22-24 pounds | 4-4.5 hours | 5-5.5 hours |
| 24-29 pounds | 4.5-5 hours | 5.5-6.25 hours |