Happy Holidays!
The holiday season is upon us, and the Marquette Food Co-op is here to help create some special memories around the table! See below for information that can help you plan your perfect gathering.

Holiday Store Hours
December 22 & 23: Extended hours, 8 a.m. to 10 p.m.
December 24: Closing early, 8 a.m. to 5 p.m.
December 25: CLOSED
December 31: Closing early, 8 a.m. to 7 p.m.
January 1: Opening late/closing early, 10 a.m. to 7 p.m.
Holiday Gift Guide
The Co-op has much more to offer than food items! From wool hats, mittens and socks to hand-crafted African baskets, beeswax candles and kitchen supplies, we'll have the perfect gift for everyone on your list this year.
For more ideas, follow the Co-op on Facebook and Instagram. Throughout the month, we'll be highlighting gift ideas picked by our staff.
Marquette Food Co-op Catering
To place an order, contact Prepared Foods Manager Heidi Sands at hsand@marquettefood.coop or 906-225-0671 x708. Orders must be placed three days prior to pick up. For large orders (more than three platters), a week and a half notice is necessary.
16'' Cheese platter (Regional or International)
Serves 20-25
$69.99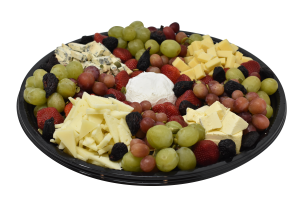 Organic Vegetable Platters
Includes broccoli, carrots, cucumber, red pepper, celery, and house-made Ultimate Hummus or Ranch.
12" – Serves 10-15, $32.99
16" – Serves 15-20, $45.99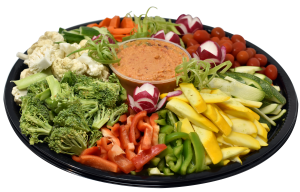 Sandwich Platters
Choose from Turkey Pesto, Ham & Provolone, Chicken Caesar Wrap, and Curry Chickpea
12'' – Serves 10, $49.99
16'' – Serves 20, $99.99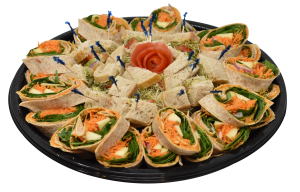 Half-Sheet Cakes
Carrot Cake, Vegan Chocolate Cake & Lemon Cake (No decorations)
Serves 20-25
$69.99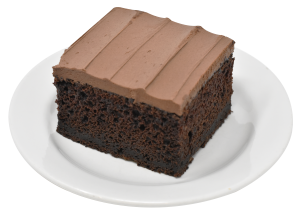 Recipes for Specialty Diets
The Holidays Simplified
For those looking to simplify their day, we also have plenty of tasty pre-made sides and salads, grab-and-go items and a full hot bar with seasonal offerings available for dine-in or take-out.
Gift Card Raffle
A Co-op gift card is the perfect holiday present! This year, when you buy a gift card at the Co-op, you'll be entered to win a gift card for yourself! Every $10 spent on a gift card will earn you one entry into a raffle for a $50 gift card. To enter, simply purchase a gift card at the checkout lanes, and you'll be provided with a raffle ticket to fill out.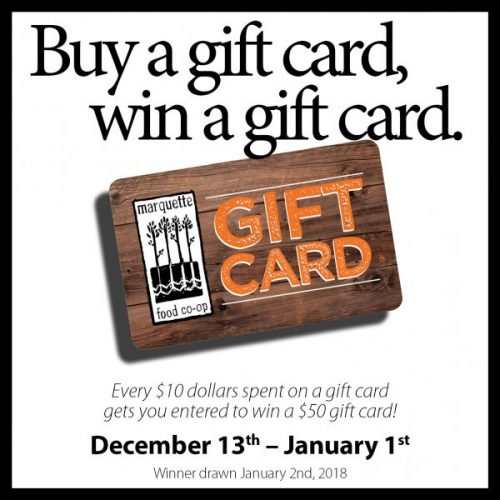 Giving Back this Holiday Season

The Marquette Food Co-op is happy to help the United Way of Marquette County fundraise toward its 2017/18 campaign goal with our Round up at the Register program. Through December 31, the Co-op will be asking shoppers at check out if they'd like to support United Way's campaign. Those who choose to donate will have their total rounded up to the next whole dollar, with the change contributed toward the Co-op's organizational goal of $4,500.
United Way of Marquette County provides critical support to local programs and agencies throughout Marquette County that secure basic needs and health care/medical assistance for our neighbors, assist elderly citizens & adults with disabilities, and help our youth. Twenty-nine member agencies will receive support from the United Way this year, including the Women's Center, Room at the Inn, RSVP, Bay Cliff Health Camp, Dial Help, Big Brothers Big Sisters, and the YMCA. We hope you'll consider supporting this cause!

Generosity is its own reward, but if you'd like the opportunity to give to others and get great groceries yourself, stop by the Co-op in early December to participate in the "Goodness Giveaway," featuring great Co+op Basics groceries. The Marquette Food Co-op will be giving away a grocery cart full of Co+op Basics items to one lucky winner AND donating a matching cart in the winner's name to St. Vincent de Paul's food pantry. It's a win-win situation — you receive a gift of healthy food and also support an organization in our community that provides healthy foods to many of our neighbors. The raffle box will be up in the store through December 12, and a winner will be drawn the following day.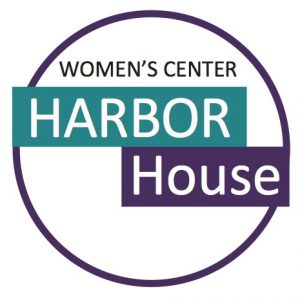 This year (beginning December 4), the Co-op will also have a display for donations to the Harbor House, which provides emergency shelter to survivors of domestic violence and/or sexual assault. While gift trees and food donation programs are plentiful this time of year, there is often still a need for basic household items. Siblings Bea and Guy Schuil are working with the Co-op to supply some of these necessary items to the Women's Center Harbor House. If you'd like to donate, find the white tree at the front of the store and select an ornament from it — each ornament will list an item that is needed. Donated items can simply be placed under the tree. They will be delivered regularly to the Harbor House, with the final delivery on December 22.