Thanksgiving with the Co-op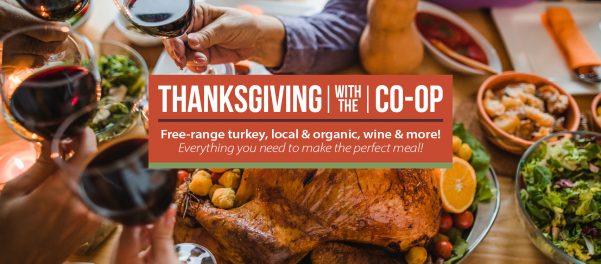 The holiday season is upon us and the Marquette Food Co-op is here to help create some special memories around the table! See below for information that can help you plan your perfect Thanksgiving meal.
Thanksgiving Store Hours
November 24: Thanksgiving Day, store closed
November 25: 10 a.m. to 7 p.m.
FREE Turkey Giveaway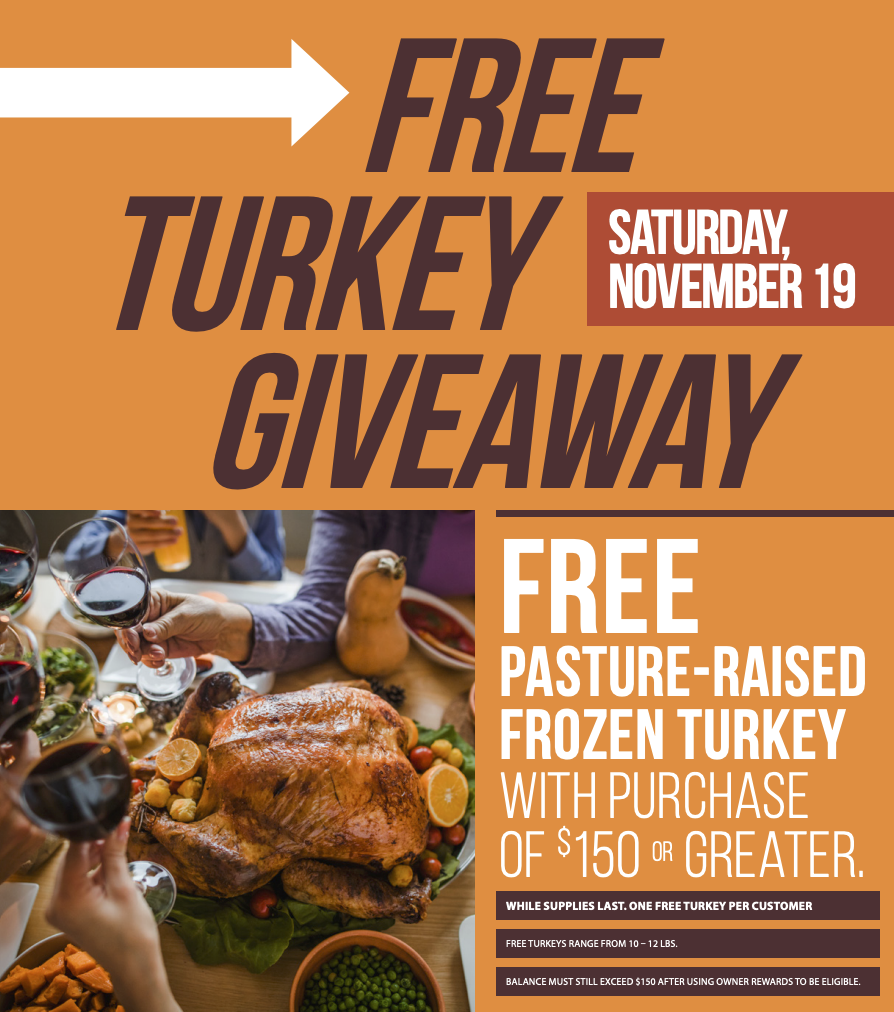 On Saturday, November 19, customers who spend $150 or more will receive a FREE frozen, pasture-raised turkey from Ferndale Market.* If shopping online, the free turkey will be offered at pickup to webstore customers – no action is required at checkout.
*While supplies last. Free turkeys weigh between 10-12lbs. Balance must be above $150 after using Owner Rewards points for offer to be valid. Offer is also valid online at shop.marquettefood.coop. 
Turkeys
This year, the Co-op will have both fresh and frozen Ferndale Market Turkeys. Ferndale turkeys are raised without the use of antibiotics or artificial growth promotants, and are free-range during the warmer months at the family farm in Canyon Falls, Minnesota. They're naturally processed, without additives. The Co-op also has frozen Larry Schultz Organic Turkeys available. Larry Schultz turkeys are fed with certified organic feed, and meet both the Global Organic Alliance and USDA guidelines and certifications for organic farming. Each of these options will be available in weights ranging from 10-24 pounds.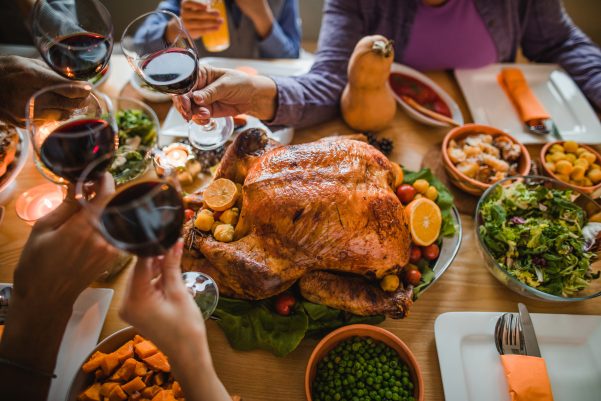 Turkey Tips/FAQ
How much turkey should I purchase?
Generally, 1-1.5 pounds of uncooked bird per person is a good amount.
How long should I cook my bird?
What you really want to look for is an instant read thermometer temping the thigh at 180 degrees and breast or stuffing at 160 degrees. The following chart is a great reference guide for an oven set at 350 degrees.
| | | |
| --- | --- | --- |
| Weight of Turkey | Roasting Time (Unstuffed) | Roasting Time (Stuffed) |
| 10-18 pounds | 3-3.5 hours | 3.75-4.5 hours |
| 18-22 pounds | 3.5-4 hours | 4.5-5 hours |
| 22-24 pounds | 4-4.5 hours | 5-5.5 hours |
| 24-29 pounds | 4.5-5 hours | 5.5-6.25 hours |
Thanksgiving Hot Bar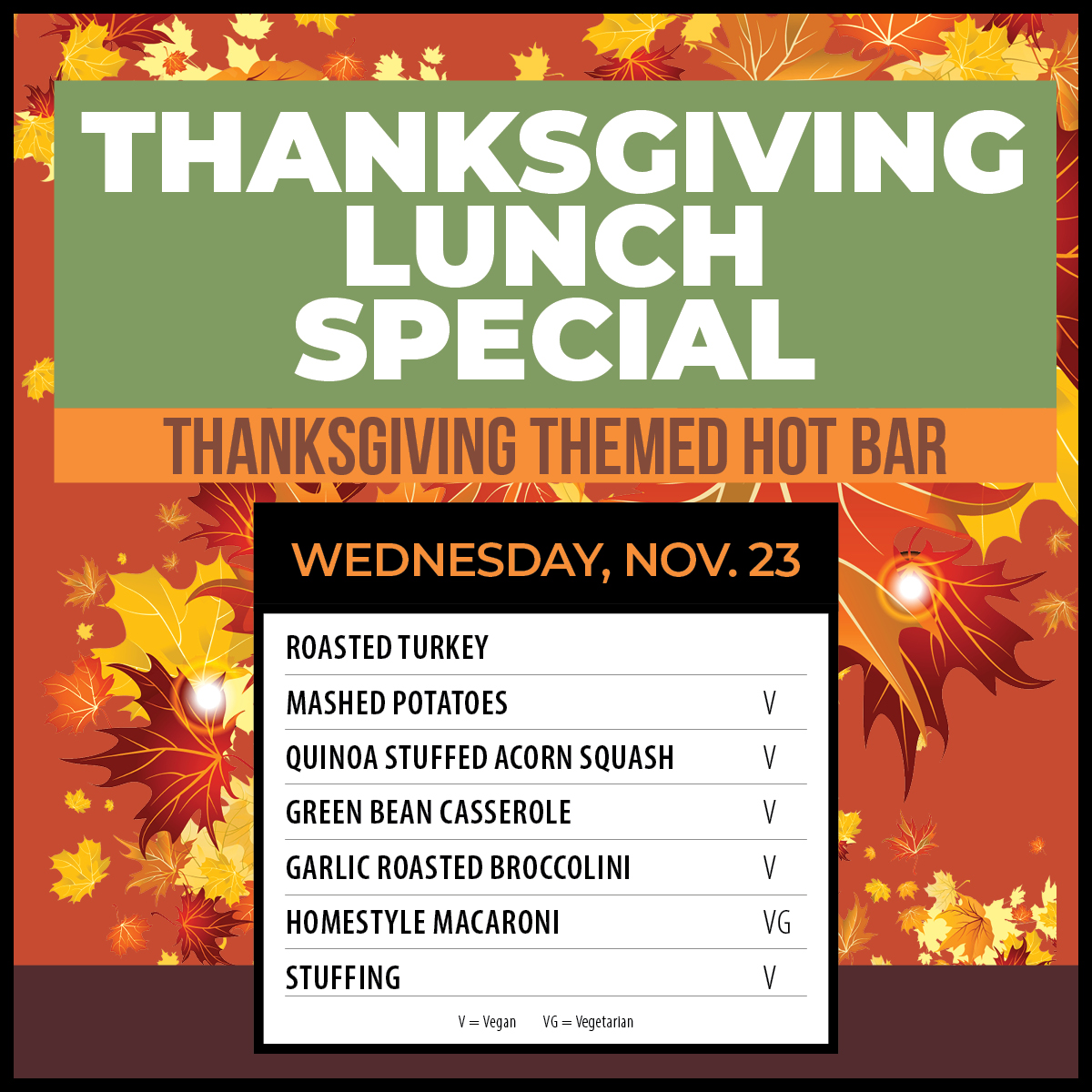 Enjoy your Thanksgiving feast early with our classic hot bar (pre-packed for safety) featuring roasted turkey, mashed potatoes (V), quinoa stuffed acorn squash (V), green bean casserole (V), garlic roasted broccolini (V), homestyle macaroni (VG), & stuffing (V). Available on Wednesday, November 23.
Recipes