Employment
The Marquette Food Co-op is located in Marquette, Michigan nestled along the picturesque south shores of Lake Superior, a unique area rich in recreational opportunities for all seasons. It is the home of some of the best mountain biking trails in the Midwest, miles of uncrowded sandy beaches, a growing micro-brewing community, and dozens of local farmers producing fresh produce that is available at our Co-op nearly year round.
This page lists job postings as they become available. We seek individuals who are passionate about good food, excited to learn more about living a healthy lifestyle, and eager to offer exceptional customer service. We strive to be a model work place and offer our employees many benefits including discounts on food, a Flexible Spending Account, health benefits, paid time off, and a respectful, safe work environment.
Human Resources
MFC's HR was created in 2004 to meet the needs of a rapidly expanding staff and has since then developed policies and systems to support a staff of over 100.
The HR department has two distinct functions:
To maintain employee records and ensure that employment policies are fair, adhered to and consistent with labor laws.
To provide work-related support, training and advice to staff and managers.
HR co-ordinates wages, benefits, hiring, training, performance evaluations and educational opportunities, as well as social functions throughout the year.
The Marquette Food Co-op places a high priority on establishing a well-trained, adequately compensated and happy staff, in the belief that it results in the exceptional customer service our customers have come to expect. HR assists managers with staffing decisions and advises staff with work-related issues.
The information below will help you understand our application process.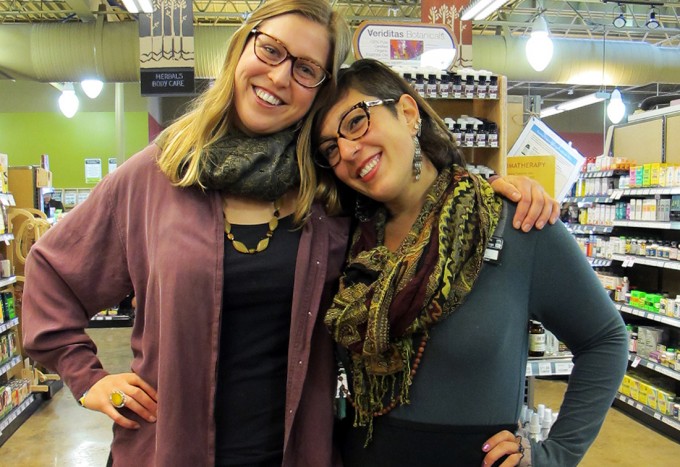 Current Positions
We are currently hiring for Production Team member and Service Team member positions.
Production Team Job Description
General Employment Application
How do I get an Application?
* You may pick up an application at our Customer Service Desk when a job opening is posted. Applications are always available on our website (click the link above). You are welcome to print one off at any time. We recommend applying for specific job postings, rather than dropping off an application when no positions are open.
Completed applications may be emailed to hr@marquettefood.coop or dropped off at our Customer Service Desk.
What is our Application Process?
We will collect applications through 9 pm of the closing date of the job posting. We then filter through the applications and set up interviews with those best qualified for the position. Interviews are typically set up a few days after the posting has expired. Applicants who are not chosen for an interview will receive a letter or email. Interview candidates will receive a phone call to set up the interview. After a candidate has been chosen and accepted the position, all other interview candidates will be notified.
Do you keep my application on file?
We keep applications on file for three months; however, if you would like to place your application into the pool for a new position, it is your responsibility to contact our Human Resources department to let them know that you are interested in the position so they can refile your application.
After the three month period, if you are interested in a new position, please reapply with a new application.
Should I call or email to check on the status of my application?
We receive dozens of applications (sometimes more) for each position that we post for. We understand your application and the status of it is very important to you. However, due to the volume of applications we receive, we are unable to meet with you or respond to calls you may place checking on its status. You will be notified of the status when the decision has been made. Be patient – depending on the position, this may take several weeks.